Why Re-Record at All?
When Taylor Swift was only fifteen years old, she signed a contract with Big Machine Label Group. In the contract, it was stated that Big Machine would own all of Taylor's masters and could sell them or promote them as they saw fit. The contract also stated that Taylor could not re-record or re-release any music owned by Big Machine until at least five years had passed since the original recordings were released. After her sixth studio album reputation, Taylor left Big Machine and signed with Republic Records. In 2019, it was announced that Big Machine Label Group, owned by Scott Borchetta, would be selling the masters of Taylor's first six albums to Scooter Braun for $300 million. This came as a shock to Taylor, who had been trying to buy her masters from Big Machine for years with no success. She "had made peace" with the idea that Scott would sell them, but felt betrayed when they were sold to Scooter who had bullied Taylor for years. When the news broke, fans and many other artists came out in support of Taylor owning her own work. Among the supporters was Taylor's friend and fellow artist Halsey (also one of my favorite artists), who said Taylor inspired her songwriting career and "deserves to own the painstaking labors of her heart". Taylor announced on GMA shortly after that she would be re-recording and re-releasing every one of her first five albums starting in November 2020 (reputation has to wait until November 2022). In the meantime, Taylor encouraged fans to listen to Lover in August 2019, "for a healthier option".
Re-recordings Order: Why is it Important?
When Taylor announced the re-recording of her first six albums, fans (naively) assumed they would be released in chronological order. However, that's not how Taylor works. Yes, she wants to re-record her albums to regain what should've been hers in the first place, but she is also a businesswoman. We also did not expect Taylor to release two completely new albums between Lover and the first re-release. After folklore and evermore were released so close together, I figured it would be a while before the first re-recording was announced and released. But only four months after evermore, Taylor released Fearless (Taylor's Version) with six songs that were written for Fearless, but ultimately scrapped. Taylor refers to these as "From the Vault" songs. It makes sense for Taylor to re-record Fearless first, as it was the album that launched her into success and won her her first Album of the Year at the Grammy's. Fans truly didn't know what to expect from Taylor next, but it wasn't that RED (Taylor's Version) would be released in November of 2021. RED was undeniably Taylor's most experimental album, with every other song representing a different genre or sub-genre of music, and has long been a fan favorite.
The World is a Different Place for the Heartbroken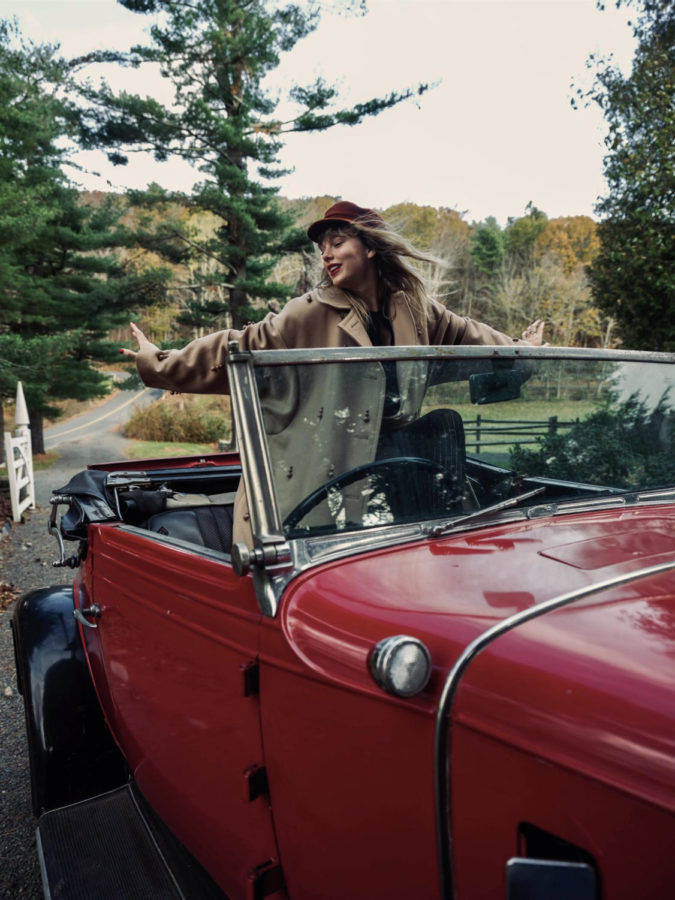 Being her fourth studio album, RED was Taylor's opportunity to show what she was really capable of in terms of her range of emotion, genre, and songwriting. And boy oh boy did she show range. Many people argue that RED is messy because of the seemingly random tracklist order, but I now with Taylor's version it's clear that it was intended. As Taylor said in her RED (Taylor's Version) announcement, "I've always said that the world is a different place for the heartbroken. It moves on a different axis, at a different speed." The song All Too Well, a fan favorite and one of Taylor's, has long been known to have been edited down from a ten minute version. Hearing our prayers, Taylor released this ten minute version as a vault track on RED (Taylor's Version). The added lyrics explain so much more of how devastated Taylor was at the time she wrote it. When she performed All Too Well in 2012, she teared up every time. Skip ahead to the reputation tour in 2018, and she explained how the fans had changed the song for her. She says we turned All Too Well into "a collage of memories" of us singing it back to her, writing the lyrics in a diary, and even getting them tattooed, and now its one of her most beloved songs instead of a painful memory. In the ten minute version, a new lyric explains how Taylor's boyfriend (yes, Jake Gyllenhaal) didn't show up to her birthday party (which she goes more in depth about in the song The Moment I Knew) and her dad said "its supposed to be fun… turning twenty-one." As sad as this lyric is on its own, it explains why 22 is on the tracklist right after All Too Well. After her twenty-first birthday was ruined, Taylor decided to turn things around and make 22 the most exciting year of her life and wrote a song about how "happy, free, confused, and lonely" she was. All Too Well is of course my favorite song from the RED album, both the original and the re-release (ten minute version, duh), but all of the vault tracks have put RED higher up on my Taylor album ranking than it was before. I think this shows just how important and exciting these re-recordings are, and I hope Taylor releases another soon.