Why She Disappeared
Although folklore and evermore are Taylor Swift's only "official" sister albums, I would argue that Speak Now and reputation are sisters, and reputation and Lover are two sides of the same coin. Reputation was a pivotal moment in Taylor's career. She had been publicly disgraced by Kim Kardashian and Kanye West in a disagreement where it has since been proven that Taylor was telling the truth all along. We all know the story of when Kanye West interrupted Taylor's acceptance speech at the 2009 VMAs when she won Female Video of the Year for You Belong With Me. Kanye interrupted Taylor in the middle of her speech to say that "Beyonce had one of the greatest videos of all time". Beyonce was embarrassed and later invited Taylor to the stage to finish her speech. When Kanye interrupted Taylor, the crowd started to boo him. But in her documentary Miss Americana, Taylor revealed that she thought the crowd was booing at her. That moment hurt her mental health for years, but Taylor found a way to move past it and became friends with Kanye and Kim around the time 1989 came out. One day, Kanye called Taylor to ask if he could say her name in his new song Famous, and a (edited) recording of the call was posted to Kim's snapchat story. He told Taylor that he was going to include the lyric "I feel like me and Taylor might still have sex", which Taylor was clearly uncomfortable with but ultimately agreed to. What Kanye did not tell her was the line that followed, which was "why? I made that bitch famous". Taylor (who was already very famous on her own, thank you very much) spoke out against this lyric and only last year was the unedited phone call released, proving that Taylor told the truth about not knowing the lyric would be in the song. Taylor was attacked online, called a snake, and went into hiding for a year.
There Will Just be Reputation
After "nobody physically saw [her] for a year", Taylor had to appear in court over a sexual assault incident from 2013. Long story short, she won her case (yay!) and decided that she was done staying silent. Then, Taylor suddenly deleted all of her instagram posts. She posted cryptic videos of a snake striking, and finally she announced her sixth studio album, reputation. The first single and accompanying music video, Look What You Made Me Do, set up the era as Taylor's darkest yet. Today, when Taylor's fans go on a social media break or finally decide to say "screw what society thinks of me", they say they are "in their reputation era". The second, third, and fourth singles were released before the album, …Ready For It?, Gorgeous, and Call it What You Want, and the full album was released on November 10, 2017. I vividly remember listening to the album for the first time when my mom and I were driving to her friend's house to cat-sit, which is pretty perfect for Taylor Swift.
Welcome to the reputation Stadium Tour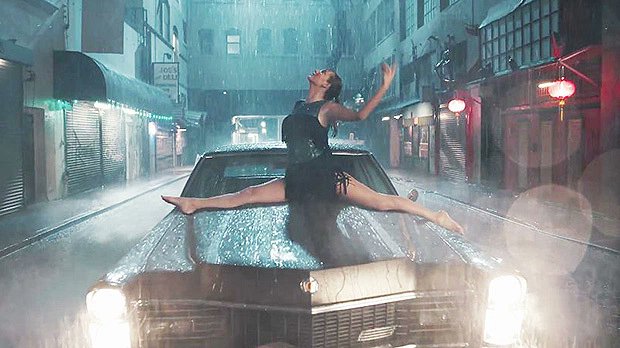 Something Bad, and Don't Blame Me. Taylor went on tour for reputation in 2018, and I was lucky enough to attend one of the shows at Gilette Stadium, which was the first stadium Taylor ever performed in when she was still a teenager. A common tour tradition for Taylor is to do a speech before certain songs, and this time it was Delicate. I was already excited when she was talking because the instrumental music for Delicate was playing, but for personal reasons the speech was very emotional. It was exactly what I needed to hear at the time, and I am just so thankful to Taylor for always being so loving to her fans. I know everyone has different opinions on para-social relationships, but I think if someone's music, or art, or acting can be a comfort (or in some cases, even save someone's life), and people don't take it too far (stalkers, creepy), they do more good than harm.